HORIZONTAL SLIDING WINDOWS
Easy Breezy Ventilation
Wouldn't you love to have a clear and scenic view from your windows? Sliding replacement windows from Window Depot USA will give you just that, thanks to their maximum glass exposure. Our Sliding windows will also add value to your home! Sliding windows are generally wider than they are tall. As you can probably tell from the name, they open and close with a horizontal sliding motion. Many cities provide the option of an interior simulated wood finish, as well as an exterior Polymer color finish. For tremendous value on top-quality products, you've come to the right place! Contact Window Depot USA today for a free, no-obligation window quote, and let us PROVE to you that our Sliding replacement windows will exceed your expectations.
BENEFITS:
Strength, Quality & Performance
Easy to Open and Close
Easy cleaning from inside your home
25% better at keeping your home draft-free
Glazing options for every application & budget
140% stronger than metal
Ventilation with limited sash opening
Improved energy-efficiency & performance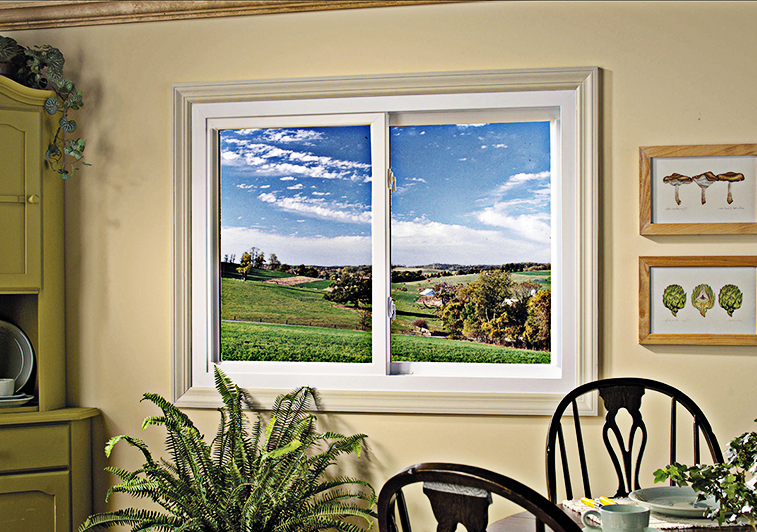 FEATURES:
Fully-welded sash and frames
Integral lift rail on sash
Both Sash can be lifted inside the home for cleaning
Triple Fin Weather Stripping
Energy Efficient Insulated Glass
Superior Forced Entry Resistant Locking System
Positive, strong vent latches
All windows are custom-made for your home
Increased Energy Efficiency
Increase Condensation Resistance
Color Options
Beauty and Vision, Performance and Strength – it all comes together in Mezzo"s exciting collection of styles, colors, and custom accents. Our FrameWorks® exterior colors feature a cutting-edge polyurethane coating technology with heat-reflective pigments for a remarkably strong and fade-resistant finish. Interior woodgrain laminates are performance-engineered for superb durability that maintains its attractive appearance over the life of the product.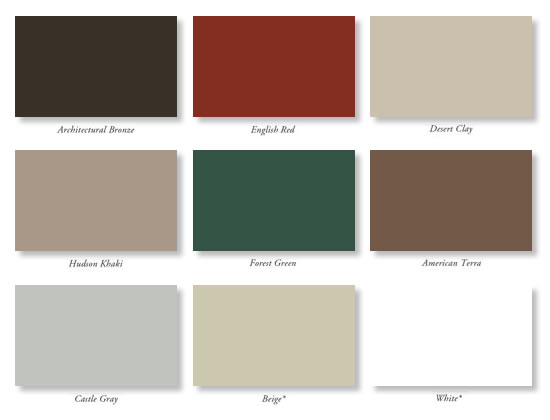 Grid Options
Decorative grids lend an added measure of style and dimension to your windows. All grids are enclosed within the insulated glass unit for easy cleaning. First, select a grid pattern from one of our four styles, and then choose a grid profile to achieve your ideal finished look.
Get your 'down-to-the-penny' price quotation right now.
Unique Performance Features from Window Depot USA
The beauty of our EdgeForce narrowline frame and sashes is subtle and substantial at the same time. The sleek design is visually clean and contemporary, with a larger glass area for exceptional daylighting and outside viewing. And beneath the elegance? Internal chambers are meticulously engineered for structural integrity and enhanced energy efficiency.
Improved form and functionality is the focus of our Ocular screen bulb seal. The compression bulb aids in the installation and removal of the extruded aluminum screen. The snug fit also eliminates light penetration between the screen and frame and helps block insect access.
CoreFX is a structural component that never quits. This innovative composite reinforcement allows for secure mounting of hardware and the non-conductive material also reduces the transfer of energy for superior thermal performance.
Stylish and strong, this low-profile secure locking hardware features an indicator that tells you if your windows are left unlocked. But the true beauty of Defense-Tek is its end-of-throw cam shift locking action, expertly constructed for increased protection.
Forecaster elevates both the appearance and performance of Mezzo Windows with its smooth, uniform design. The true sloped sill is expertly crafted to provide a highly efficient drainage system that promotes water runoff without the use of weep holes.

The benefits distinction here is three-fold: protection from air and water infiltration, increased structural stability and enhanced beauty. The integrated telescoping sill dam effortlessly blends strength with style.
When extreme wind and weather hit your home, Gatekeeper stands strong. Traditional sloped sill designs can allow the sash to bow during powerful winds, but with Gatekeeper interlocking sash-to-sill technology, the sash is channeled firmly into the window frame for a unified wall of strength. Combined with three layers of weatherstripping, Gatekeeper delivers unmatched protection, as well as peace of mind.
No Company Can Provide You With More Features at a Better Price
The Power of Glass
The glass system in your windows can make a substantial difference. For example, Mezzo Windows with triple-pane ClimaTech ThermD TG2 glass technology are 52% more energy-efficient than clear double-pane windows. In the chart below, U-Factor represents the rate of heat flow through the window – the lower the U-Factor, the less energy is needed to heat a home. SHGC (Solar Heat Gain Coefficient) represents solar heat penetrating through the window – the lower the number, the more you'll conserve on air-conditioning